Policies for In-Person or Hybrid Classes
The LINC High School follows all policies as set forth by The School District of Philadelphia. All students are expected to abide by the Code of Student Conduct.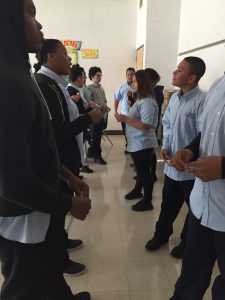 Students are expected to wear The LINC uniform except on announced dress down days. The uniform is a light blue, polo shirt, navy or black pants, and dark colored shoes or sneakers. The LINC Phys Ed t-shirt must be worn on gym days with black, gray, or navy sweatpants. A LINC hooded sweatshirt may also be work over the uniform. Go to the Parents or Students tab for more information.
Class Schedule (In-person classes only, for digital learning, see the schedule on the home page)

The regular school day is from 7:47 am to 2:51 pm and consists of 4 blocks, lunch & Seminar, and LINC Commons (a 12 minute break between 3rd and 4th blocks).
Students are dismissed at 1:45 pm every Wednesday.
Breakfast is available to all students starting at 7:20 am.

Students eligible to receive a Transpass can obtain the Transpass on Friday or Monday during Seminar.
Students are not permitted to have cell phones in class.
All students must have their Student ID on a daily basis. The first is free and replacements are $5.00. The Student ID is used to swipe in every morning so that the student is recorded as present.
Students are expected to be in school on-time every day. The LINC High School follows the protocols for student attendance as set forth by The School District of Philadelphia's Office of Attendance & Truancy.